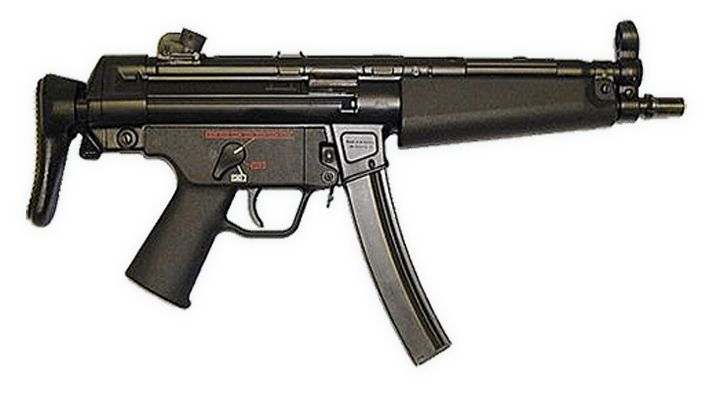 MP5 kits usually In stock! Check with us for availability
HK factory MP5 parts kits or after market parts kit build services
Additional MP5 parts and accessories available
MP5 and clone trouble shooting, tuning and gunsmithing
Any configuration! MP5, MPF, MP5SD, MP5K and more…
HK MP5 Build
SERVICES AND PARTS
We can build your MP5 using your parts kit and receiver or provide everything for you! We also have lot's of options and in stock accessories. We can customize an MP5 package for you or set you up with one of our in stock HK MP5 build kits.
Prices and availability change all the time so see below and contact us if you need a quote or have any questions.
For completed MP5 builds for sale, contact us to see what we have in stock:
Black Ops Defense Interview: HK MP5, MP5SD, SP5 Conversions, HK91, PSG1, G3, MSG28 and More
Check out this interview / before and after video with YouTuber "SteveMP5"! In this video we discuss with Steve our various 90 series/roller lock, HK builds and services.
Steve has some great info here for everyone and amazing shots of our finished work. We discuss with him the build process, finishing, welding, markings, various build options and more.
Steve even places an order with us for an MP5! Be sure to check out his follow up video to see the finished product.
Standard HK MP5 9mm Build Services
THIS SERVICE INCLUDES:
Recovery/extraction of de-milled parts from the cut up MP5 kit
Cleaning, refurbishing, spring replacement and parkerizing/black finishing, on warn parts
Barrel pressing and head spacing/bolt gapping if necessary
Precise and meticulous tig welding of all necessary components
Jig secured during welding and laser bore sighted
Test firing
Fitting, semi-auto conversion and final finish
HK MP5 Build Services / Customer Provided Parts:
| | |
| --- | --- |
| MP5 parts kit build service (Includes no parts): | $1199 |
| MP5 bare receiver only build service (Includes no parts): | $299 |
| Custom markings (HK/Personal/Other): | $99 |
| MP5 magazine, semiauto conversion parts & pistol cap (parts only, needed to complete an MP5 machinegun kit rebuild): | $99 |
| MP5 bare receiver/frame only (laser engraved, LSC flat, welded with basic weldments): | $499 |
| MP5 MLI RAL8000 treatment/upgrade: | $399 |
HK MP5 Complete Builds / Parts Included:
| | |
| --- | --- |
| MP5 Standard SEF 9mm parts kit build (Finished gun): | $2899 |
| MP5 Standard ambidextrous 9mm parts kit build (Finished gun): | $3139 |
| MP5-F parts 9mm kit build (Finished gun): | $3499 |
| Custom markings (HK/Personal/Other): | $99 |
| MP5 MLI RAL8000 treatment/upgrade: | $399 |
This is our base pricing. Packages go up from here as you add features and customization. There are a lot of options so contact us to get a quote and find out more!
For completed MP5 MP5F MP5-N 9mm standard builds for sale, contact us to see what we have in stock:
HK MP5K & MP5 RS Reverse Stretch 9mm Build Services
THIS SERVICE INCLUDES:
Recovery/extraction of de-milled parts from the cut up MP5 kit
Cleaning, refurbishing, spring replacement and parkerizing/black finishing, on warn parts
Barrel pressing and head spacing/bolt gapping if necessary ( most K builds are built using new, US made, threaded and 3 lug barrels, do to availability )
Precise and meticulous tig welding of all necessary components
Jig secured during welding and laser bore sighted
Test firing
Fitting, semi-auto conversion and final finish
HK MP5K RS Build Services / Customer Provided Parts:
| | |
| --- | --- |
| MP5K parts kit build service (Includes no parts): | $1299 |
| MP5K RS Reverse Stretch parts kit build service (Includes no parts): | $1299 |
| MP5K bare receiver only build service (Includes no parts): | $299 |
| Custom markings (HK/Personal/Other): | $99 |
| MP5K magazine, semiauto conversion parts & pistol cap (parts only, needed to complete an MP5K machinegun kit rebuild): | $99 |
| MP5K bare receiver/frame only (laser engraved, LSC flat, welded with basic weldments): | $549 |
| MP5K MLI RAL8000 treatment/upgrade: | $399 |
HK MP5K RS Reverse Stretch Complete Builds / Parts Included:
| | |
| --- | --- |
| MP5K Standard SEF 9mm parts kit build (Finished gun): | $3399 |
| MP5K RS Reverse Stretch SEF 9mm parts kit build (Finished gun): | $3399 |
| MP5K 40/10 or Custom MP5K SD build (Finished gun): | CALL |
| Custom markings (HK/Personal/Other): | $99 |
| MP5K MLI RAL8000 treatment/upgrade: | $399 |
This is our base pricing. Packages go up from here as you add features and customization. There are a lot of options so contact us to get a quote and find out more!
For completed MP5K MP5K-RS Reverse Stretch and custom MP5KSD 9mm standard builds for sale, contact us to see what we have in stock:
HK MP5SD 9mm Build Services
THIS SERVICE INCLUDES:
Recovery/extraction of de-milled parts from the cut up MP5 kit
Cleaning, refurbishing, spring replacement and parkerizing/black finishing, on warn parts
Barrel pressing and head spacing/bolt gapping if necessary ( most SD builds are built using new, US made barrels, do to availability )
Precise and meticulous tig welding of all necessary components
Jig secured during welding and laser bore sighted
Test firing
Fitting, semi-auto conversion and final finish
HK MP5SD Build Services / Customer Provided Parts:
| | |
| --- | --- |
| MP5SD parts kit build service (Includes no parts): | $1399 |
| MP5KSD / RS Reverse Stretch parts kit build service (Includes no parts): | $1799 |
| Custom markings (HK/Personal/Other): | $99 |
| MP5SD MLI RAL8000 treatment/upgrade: | $399 |
HK MP5SD Complete Builds / Parts Included:
| | |
| --- | --- |
| MP5SD Standard SEF 9mm parts kit build (Finished gun, no suppressor): | $3499 |
| MP5SD ambidextrous 9mm parts kit build (Finished gun, no suppressor): | $3499 |
| MP5SD 40 or Custom MP5K SD build (Finished gun): | CALL |
| MP5SD TPM Suppressor: | $599 |
| Custom markings (HK/Personal/Other): | $99 |
| MP5SD MLI RAL8000 treatment/upgrade: | $399 |
This is our base pricing. Packages go up from here as you add features and customization. There are a lot of options so contact us to get a quote and find out more!
For completed MP5SD and custom MP5SD 40 / K / RS custom builds for sale, contact us to see what we have in stock:
HK MP5 40/10 Build Services 10mm/.40cal
THIS SERVICE INCLUDES:
Recovery/extraction of de-milled parts from the cut up MP5 40 kit
Cleaning, refurbishing, spring replacement and parkerizing/black finishing, on warn parts
Barrel pressing and head spacing/bolt gapping if necessary ( US made barrel for 10mm builds )
Precise and meticulous tig welding of all necessary components
Jig secured during welding and laser bore sighted
Test firing
Fitting, semi-auto conversion and final finish
HK MP5 40/10 Build Services / Customer Provided Parts:
| | |
| --- | --- |
| MP5 40/10 parts kit build service (Includes no parts): | $1399 |
| MP5 40/10 bare receiver only build service (Includes no parts): | $299 |
| Custom markings (HK/Personal/Other): | $99 |
| MP5 40/10, semiauto conversion parts & pistol cap (parts only, needed to complete an MP5 machinegun kit rebuild): | $69 |
| MP5 40/10 bare receiver/frame only (laser engraved flat, welded with basic weldments): | $699 |
| MP5 MLI RAL8000 treatment/upgrade: | $399 |
HK MP5 40/10 Complete Builds / Parts Included:
| | |
| --- | --- |
| MP5 40 Cal. standard SEF parts kit build (Finished gun): | $3499 |
| MP5 10mm standard SEF parts kit build (Finished gun): | $3499 |
| MP5K or MP5SD 10/40 build (Finished gun): | $CALL |
| Custom markings (HK/Personal/Other): | $99 |
| MP5 MLI RAL8000 treatment/upgrade: | $399 |
This is our base pricing. Packages go up from here as you add features and customization. There are a lot of options so contact us to get a quote and find out more!
For completed MP5 40/10 MP5 40 Cal. 10mm and custom MP5 40/10 builds for sale, contact us to see what we have in stock:
Additional MP5 Customizing Services & Gunsmithing
HK MP5, SP5, SP5K, SP89, SW5, BW5, Vector clones and variants gunsmithing and customizing:
| | |
| --- | --- |
| Refinishing, factory HK black Duracoat: | $299 |
| Refinishing, factory HK black CeraKote: | $499 |
| Refinishing, custom color or camo paint job: | $299-$499+ |
| NFA/SBR engraving: | $49 |
| Welded picatinny top rail (rail and installation): | $99 |
Professional hand tig welds
Magwell and mag release fitted with various HK factory mags
Test fired and working before shipping/delivery
Metal work and cleanup on all metal parts/sheet metal
No marks, gouges, scratches or other blemishes, from the fabrication process
No rough, pitted, pin-holed or overly shinny finish
Properly machined scope mount bulges, ready for all factory HK accessories
Rounded front trunnion sheet metal, ( just like HK ) for proper future maintenance/re-barreling
Plug welds exactly like factory HK builds, in the same locations
Metal black "parkerizing" on the 3 lug tip, NOT paint, to hold close tolerances
Tight fitting upper to lower, with no play
No rushed work/assembly line procedures or "unskilled help"
Hours of special attention to detail will be spent on YOUR project…