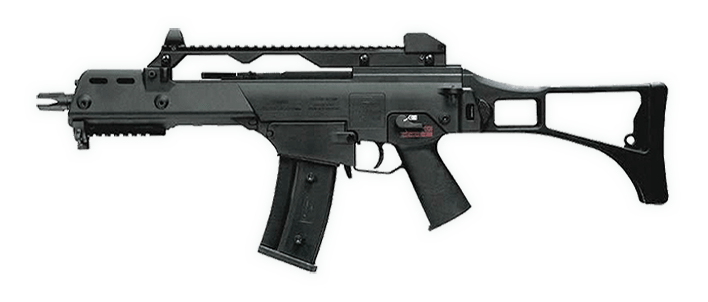 Let us set you up with a G36, G36K, G36E or G36C clone that suites your needs and budget! See below for pictures, prices and info.
We can add the G36 folding stock and grip ergonomics.
The conversion allows you to use high capacity, double stacked G36 magazines.
G36 ejection port stock catch and pushpin breakdown can also be added.
The ultimate civilian legal G36C/G36K clone can be built if you are in a state that allows you to register your gun as an SBR or Short Barrel Rifle. Contact us for details on From 1 SBR registration.
HK SL8 t0 G36 Conversion
SERVICES AND PARTS
The SL8 to G36 conversion is a very exclusive and very unique firearm for collectors and HK enthusiasts. Although rare and hard to come by, we can help you obtain your dream G36 configuration. These guns are expensive and otherwise unattainable on the US civilian market!
The stock SL8 is not as versatile and not nearly as ergonomic. What you gain by doing the G36 conversion is not only looks and authenticity, but also a better feeling and better handling gun. The feel of the grip itself is much better and the folding stock option is a big improvement over the fixed, thumb hole SL8 stock. The factory SL8 stock is ok for bench shooting but we have noticed that it tends to irritate your hand after a bit of use… If you are in a state that does not allow the folding stock, it is still worth it just for the better feel of the G36 grip housing. These changes greatly improve the shoot-ability, ergonomics and feel of the SL8.
If you've always wanted a civilian semi-auto version of the G36, this is your best, most authentic option!
For completed G36C and SL8 to G36 conversions for sale/ready to buy, contact us to see what we have in stock:
Base SL8 to G36 or G36C Conversion (Stock Block Type)
THIS SERVICE INCLUDES:
Milling the magazine well of the SL8 to accept the larger G36 magazine
Filling in the mag well side plate on the receiver, after machining
Dying of the gray SL8 to the dark black HK color
Fitting G36 grip frame to receiver
Dis-assembly and reassembly
Folding stock hook/catch
Refinish receiver
| | |
| --- | --- |
| Basic SL8 to G36 Stock Block Type Conversion Service | $499 |
| Stock Catch | $99 |
| Laser Re-Marking | $99 |
Contact us for a specific quote on your project
Ultimate Full Weld-On SL8 to G36 Conversion
This "fuse job" conversion offers the most realistic, true to the real thing, conversion a civilian can own! The plastic welding "fusion" procedure requires lots of time and patients as well as plastic welding experience and jigs.
THIS SERVICE INCLUDES:
All of the basic weld-on modifications from the stock block/base conversion service
Welding the G36 rear section to the SL8 receiver and adding the stock catch to the side of the gun so that the stock doesn't flop around when folded in
Weld and fill in the magazine well side plate and machine the mag well to fit the larger magazines
Laser engraving the authentic G36 markings
| | |
| --- | --- |
| Ultimate Full Weld-On SL8 to G36 Conversion | $1299 |
| SL8 Bolt Head Modification | $99 |
| G36 Laser Engraving/Re-Marking | $99 |
Contact us for a specific quote on your project
Additional SL8/G36 Services
Additional options include:
| | |
| --- | --- |
| Folding Stock Hook/Catch Addition to SL8 Receiver ( Included in Ultimate, Weld-On Type Conversions ) | $99 |
| Bolt Head Welding & Machining ( Sl8 to G36 Bolt Head Modification ) | $99 |
| SL8 Barrel Cut, Thread & Gas System Modification to G36C or G36K Length/Configuration | $399 |
| Fake Silencer/Barrel Extension to Bring Your Short Barrel to 16″ ( Custom Made ) | $199 |
| Custom/Camo/Pattern Finishes | $299-$499+ |
| Re-Mark Selector Leaver to Line Up w/ Full-Auto Markings | $49 |
| Laser Engraving & Re-Marking the SL8 Receiver w/ G36 Markings ( Requires a Receiver Refinish ) | $99 |
| NFA/SBR Engraving | $49 |
Contact us for a specific quote on your project
NO FOREIGN MATERIALS USED when welding or plastic fusing
NO FILLERS or putty, only melted nylon from the actual HK polymer
Bondo/body fillers, epoxy and other "quick fix" materials will crack, flake and compromise overall finish/durability. You will not find this in our work!
No waves! Smooth flat even surfaces ( Straighter than the factory since most mold waviness is removed during the process )
No pinholes in final finish
DuraCoat Firearms Finish w/ slight texturing, NO SPRAY PAINT!
Masked engravings to prevent texturing grit from obstructing markings
No rough edges or internal blemishing, bolt will slide perfectly, just like factory
No cracking, splitting or other weld failures, guaranteed ( 100% track record to date )
No rushed work/assembly line procedures or "unskilled help"
Hours of special attention to detail will be spent on YOUR project…