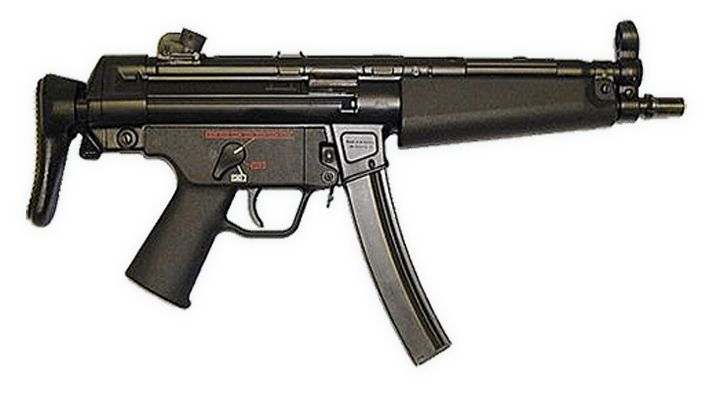 This is an off the shelf SW5 from Special Weapons. My goal here is to have an MP5 clone that is as much like the real MP5 A5 as possible, in semi auto, using as many clone parts as possible. The clone MP5s are prone to many problems do to out of spec parts not made to the correct tolerance or pore craftsmanship when being built and assembled. It can all be fixed, you just need to figure out what you have.
Section highlights:
Making the SW5 work!
Sure Fire tac light for grip
HK QD MP5 suppressor
MP5 clone magazine trials and reviews
MP5 clone collapsible stock
MP5 cocking tube laser aiming device
ARMS MP5 claw mount and dot site
HK MP5 build services from Black Ops Defense:   Click Here
Making The SW5 Work / What Parts to Replace With HK Originals 
For most problems you can purchase original HK parts as a remedy. The key is figuring out what parts are at fault and which parts to replace with genuine HK parts.
As a general rule most of these guns will need:
HK Extractor and extractor spring
HK Ejector
In some cases you may also need:
HK Firing pin and spring
HK original bolt head
HK original locking piece and maybe rollers
This SW5 shot great for about 4-500 rounds. It was a used gun so I have no idea how many rounds it was good for before that. It then started to jam after every shot! Failure to eject and failure to feed. I will replace the ejector, extractor and extractor spring and report back!
HK MP5 build services from Black Ops Defense:   Click Here
HK MP5 QD 9mm Suppressor 
I could do this 2 ways, I can just buy an HK QD MP5 suppressor or I can make it and register it myself. If I make the device it may not be the exact same internal design but it should get the job done with the right subsonic ammunition. I still want to try and replicate the quick detach system and create the same look. I can even have the laser engraving done so that it will look almost exactly the same from the outside. Building it myself should save me quite a bit of money over the real HK suppressor.
I will add much more detail and photos to this section as the project progresses.
HK MP5 build services from Black Ops Defense:   Click Here